iniezione di filler per viso acido ialuronico con filler
Iniezione di acido ialuronico

Con l'aiuto di una siringa, il filler facciale HA nella porzione intermedia del derma del paziente. Questo strato di pelle appena sotto la superficie contiene vasi sanguigni, tessuti connettivi, sudore e ghiandole sebacee e terminazioni nervose. L'effetto lifting e levigante del trattamento con sodio ialuronato è evidente circa una settimana dopo. Acido ialuronico iniettabile offre risultati duraturi, con la maggior parte delle persone che dichiara di aver bisogno di un trattamento ripetuto da sei a nove mesi. A questo punto, il corpo assorbe naturalmente il composto biocompatibile e l'effetto del trattamento svanisce. L'impatto originale può durare anche di più per i pazienti.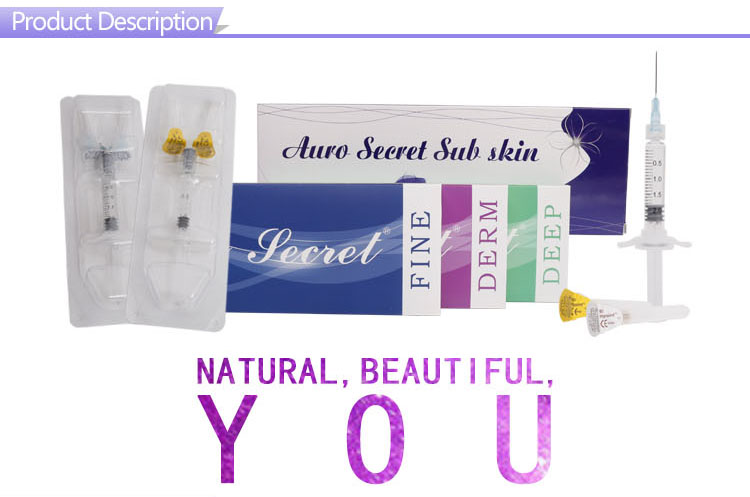 L'iniezione di ampolle è una sostanza che è naturalmente presente nel corpo umano. Si trova nelle più alte concentrazioni di liquidi negli occhi e nelle articolazioni. L'acido ialuronico usato come medicina viene estratto dai pettini dei galli o prodotto dai batteri in laboratorio.
Le persone assumono acido ialuronico per vari disturbi articolari, tra cui l'artrosi. Può essere assunto per via orale o iniettato nell'articolazione interessata da un operatore sanitario.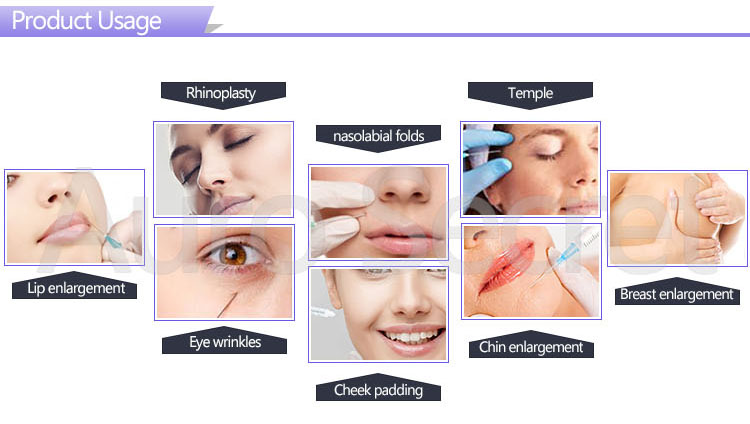 La FDA ha approvato l'uso dell'acido ialuronico durante alcuni interventi oculistici, tra cui la rimozione della cataratta, il trapianto di cornea e la riparazione di una retina distaccata e altre lesioni agli occhi. Viene iniettato nell'occhio durante la procedura per aiutare a sostituire i fluidi naturali.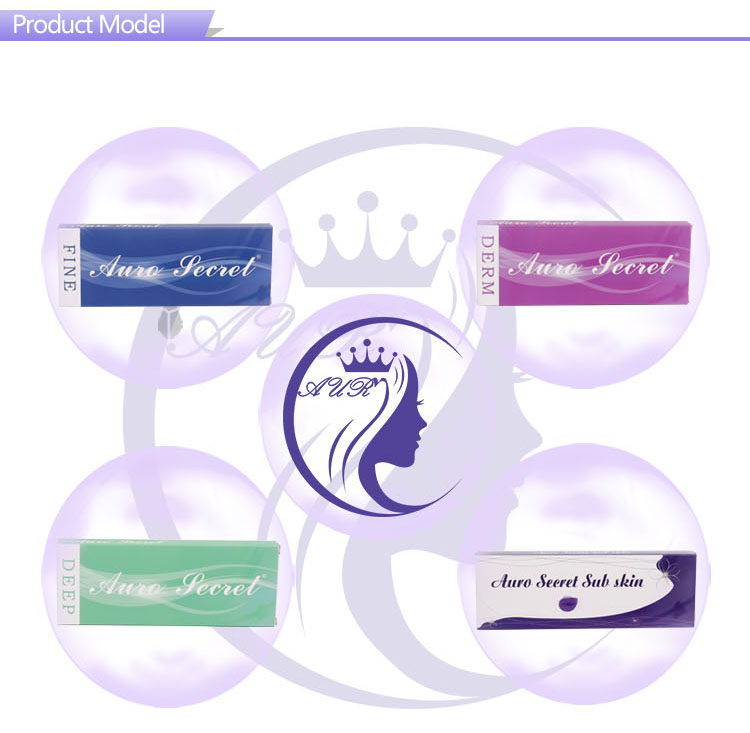 Auro Secret Fine

Needle size: 30G,Volume:1ml/2ml

Treatment:

With the smallest particles for the correction of very thin,superficial lines.

Injected in the upper part of the dermis.

For correction of thin superficial lines,such as worry lines,periorbital lines,perioral lines.




Auro Secret Derm

Needle size: 30G,Volume:1ml/2ml

Treatment:

Medium particle size for moderate wrinkles.

Injected in the middle part of the dermis.

For treatment of moderate wrinkles,such as glabella,oral commissures.

Lips fullness,pouting and vermilion border.




Auro Secret Deep

Needle size: 27G,Volume:1ml/2ml

Treatment:

Larger particles for deep folds.

Injected in the deep layer of the dermis and/or the surface layer of the subcutis.

For correcting deep folds,creating fuller lips and shaping facial contours,such as cheeks and chin.




Auro Secret Subskin

Needle size: 23G,Volume:10ml

Treatment:

Largest particles for breast and buttock.Injection for the breast and buttock augmentation.

Injected in the deep dermis or subcutaneous tissue shallow.

For the local depression,soft tissue filler,also can be used in rhinoplasty.




HA concentration:20mg/ml

Approximate number of gel particles ml: 200,000

Particle size(mm): 0.10-0.15

HA origin: Non animal

Storage: room temperature

Duration: 6-18 months




L'acido ialuronico è anche usato come riempitivo per le labbra in chirurgia plastica .

Alcune persone applicano acido ialuronico alla pelle per la guarigione di ferite, ustioni, ulcere della pelle e come idratante.

C'è anche un sacco di interesse nell'utilizzo di acido ialuronico per prevenire gli effetti dell'invecchiamento. In effetti, l'acido ialuronico è stato promosso come una "fontana della giovinezza". Tuttavia, non ci sono prove a sostegno dell'indicazione che l'assunzione per via orale o l'applicazione sulla pelle possa prevenire i cambiamenti associati all'invecchiamento.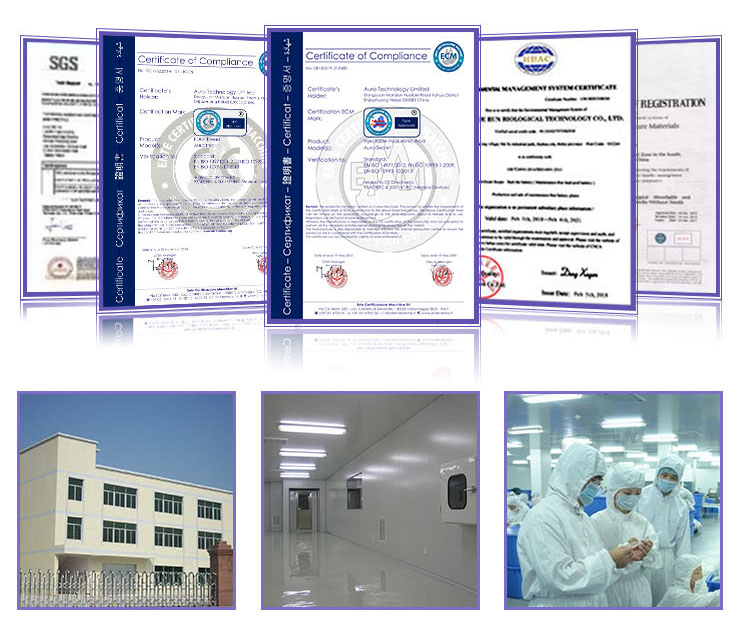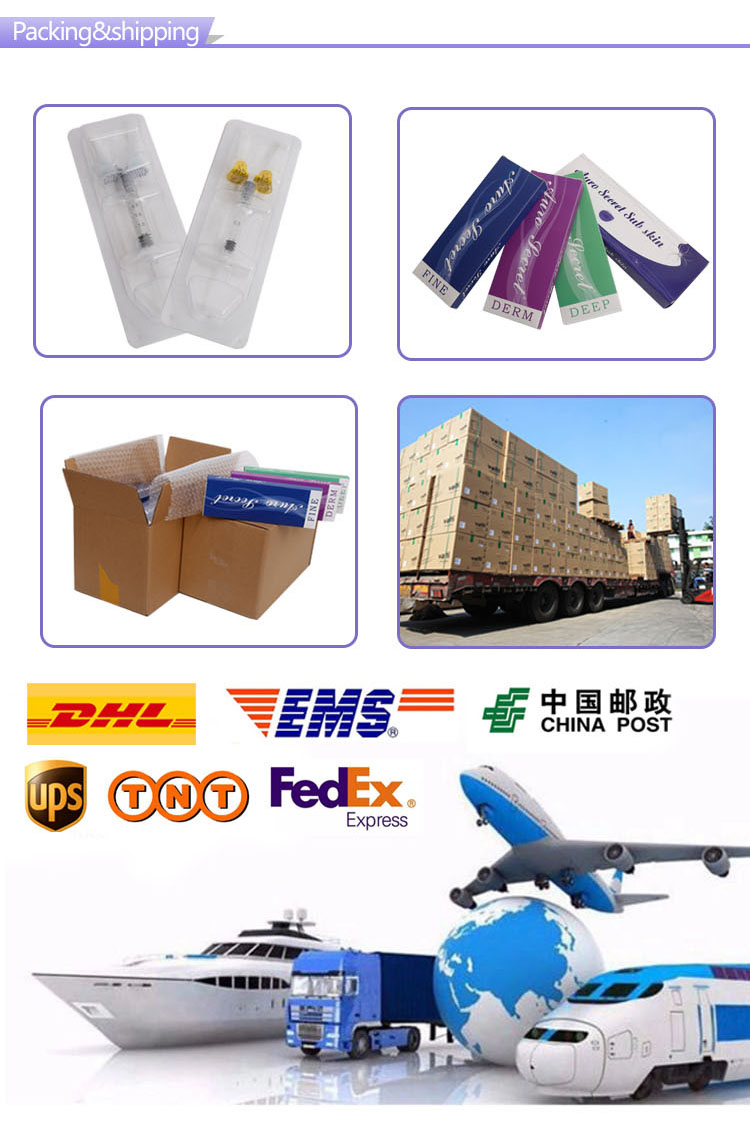 Come funziona?
L'acido ialuronico agisce come un cuscino e un lubrificante nelle articolazioni e in altri tessuti. Inoltre, potrebbe influire sul modo in cui il corpo risponde alle lesioni.
Invecchiando, la nostra pelle perde la capacità di preservare l'umidità, con conseguente perdita visibile di fermezza, flessibilità e rotondità. L'acido ialuronico piomba dentro con la capacità di ricostituire l'umidità che è fondamentale per avere la pelle più giovane dall'aspetto più elastico.
Allo stesso tempo, rivitalizza gli strati esterni della pelle in modo che appaiano e si sentano più morbidi, levigati e idratati in modo brillante per migliorare istantaneamente l'aspetto delle linee sottili e delle rughe.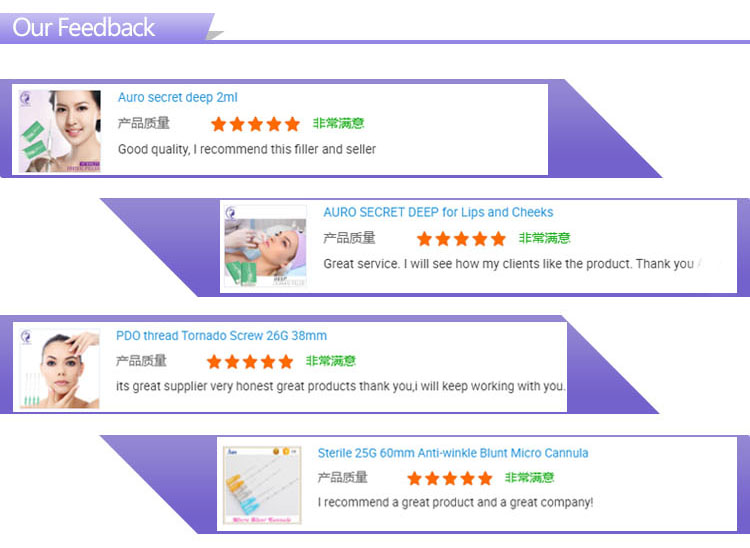 Elenco prodotti : Filler dermico